Michael Wayne Dunahee
On Sunday, March 24th, 1991, four-year-old Michael Dunahee went missing from a playground at Blanshard Elementary School in Victoria, British Columbia. Some presume that Michael was abducted. He was last seen wearing a blue-hooded jacket with red lining and red cuffs, a Teenage Mutant Ninja Turtles t-shirt, multi-coloured rugby pants and blue sneakers.
If you have any information related to Michael's disappearance, please submit a tip.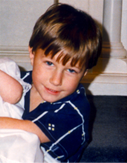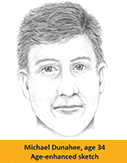 Date of Birth: May 12, 1986
Missing Since: Mar 24, 1991
Missing from: Victoria, British Columbia, Canada
Characteristics: Michael was starting to show freckles when he disappeared.
Eyes: Blue
Hair: Blond
At the time of disappearance: height: 3'0"; weight: 51 lbs